Sailing in the Canary Islands is possible all year round under first-class conditions. This area is located near the northwest coast of Africa has a lot to offer and is an insider tip among sailors. Here you will find breathtaking natural diversity spread over 8 islands.
Each of these islands has its own character and offers pure variety, but what they have in common is mild temperature above 20 degrees in winter, constant trade winds and ideal sailing conditions. Here, where the deep blue Atlantic turns into crystal-clear turquoise water on the coasts, you have not only the option of a charter holiday on a Lava Charter sailing yacht, but also the optimal conditions to complete your sailing course in our RYA training center.
After other sailing areas (lakes, Baltic, North or Mediterranean Sea), the Atlantic around Lanzarote is the next step in your sailing development. Lanzarote provides the most relaxing sailing conditions compared to the rest of the islands.
We are sure you would you like to learn more about the Canary Islands, that is why we have gathered some helpful information about sailing in the Canary Islands, especially for you.
location
The archipelago has volcanic origin and is located near the northwest coast of Africa. Although it is part of the African continent, it is included in the Spanish territory. The archipelago stretches approximately 600 kilometers from northeast to southwest and is made up of 8 main islands: Tenerife, Fuerteventura, Gran Canaria, Lanzarote, La Palma, La Gomera, El Hierro, and La Graciosa. The currency in the Canary Islands is Euro and the spoken language is Spanish. In about 4 hours flight time you can reach the Canary Islands from Central Europe.
climate
Due to the proximity to Africa and the southern location, the climate is mild and warm all year round. In winter temperatures stay above 20 degrees (12-15 degrees at night) and in summer do not rise above 28 degrees (18-20 degrees at night). No wonder that at these meteorological conditions people speak of "eternal spring". So if you want to escape the winter to extend the sailing season or start it earlier, this is the place for you.
Although you can usually get by without it, we recommend taking weather gear with you in the winter months, especially for the evening hours or night sailing.
Our base manager Jan always likes to say: "Winter on the Canary Islands is like summer on the Baltic Sea." As with everything in life, there are exceptions and it is important to know them.
Here you can get familiar with recurring weather phenomenon called "Calima".
When north-easterly wind turns and blows more from the east, sandy, humid and hot Saharan air reaches the Islands. Temperatures are rising and visibility is clouded by the sand in the air. This usually subsides after 3-4 days. Overall, this weather condition occurs about 3-5 times a year.
The Azores high normally inhibits the Calima events. Only if it moves further to the southeast, together with a stationary low over the Sahara, it can support the east wind and transport the warm, sand-filled air to the west.
Besides famous Calima, isolated heavy rain can occur as well as southwest wind conditions with storms if a cyclone / tropical storm strays. In summary, however, it can be said that the Canary Islands nearly always have optimal sailing conditions, with summer being more suitable for strong wind sailing and winter being good for cruising.
Microclimate zones and vegetation
From desert areas on Fuerteventura to the snow-capped Teide on Tenerife, almost all climate zones can be found on the Canary Islands. Why is that? The location of the islands and the different heights of the them create so-called microclimate zones. Each island has its own vegetation and climate:
Even if it is mostly mild and warm, it only rains on Lanzarote about 10 days a year. This is due to the height of the island: Because the highest point on Lanzarote is about 671 meters, there are no clouds and rain here. This event naturally affects the flora and fauna of the island. There are mainly spurge plants (Euphorbiaceae), succulents (Euphorbia), dry plants (xerophytes) and salt plants (halophytes), which store water and are drought-resistant and salt-tolerant.
The opposite example is El Hierro with the so-called cloud forest. It is a laurel forest that fulfills an essential function for the climate and the flora. The water from the trade wind clouds can condense on its leaves, drips off them and in this way irrigates the fertile soil. All kinds of ferns, mosses and ivy can be found here. A jungle-like landscape just a few hundred kilometers from the barren volcanic landscape of Lanzarote. What a breathtaking variety!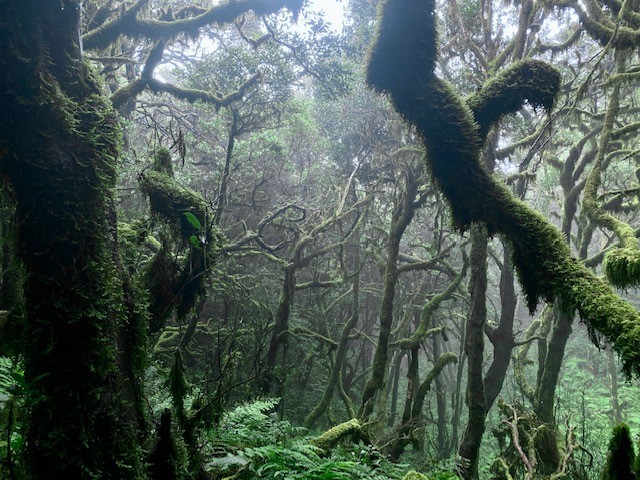 Wind
The wind conditions on the Canary Islands are very interesting. The islands are located in the beginning of the trade wind zone, which means that the prevailing northeasterly winds triumph. They blow past the Canary Islands archipelago is causing acceleration at certain capes (called acceleration zones). They are mainly created by the cape and jet effect between the islands. So-called light wind zones develop in the lee of the islands. This means that as a charter guest or sailing coach you can sort of pick out the wind conditions in here. You can consciously sail in light winds, strong winds or in stable trade wind conditions that have a supra-regional effect.
For sailors, this variability means a great opportunity to train in a wide variety. Those who sail prepared and knowingly can handle the challenges well. But for beginners, the change from light wind zones to acceleration zones can be very surprising at first. Because within a few hundred meters the wind can increase rapidly, which is clearly visible on the water surface through white foam crests on the waves.
We therefore recommend Lanzarote as a destination for beginners and sailors who are making their first attempts on the Atlantic. As here the acceleration zones are not very pronounced and you can start under easier conditions. Overall, the wind is stronger in summer (20-35 knots gusting) and weaker in winter (10-25 knots gusting).
waves
There are relatively high waves of 1-3 meters on the Canaries , but due to long swell these are uncomplicated and described as pleasant by sailors. Generally, it can be said that the waves on the north-east coasts are more exposed than on the south-west coasts, this is of course also due to wind conditions.
Between the islands, where there is so-called jet effect and a long effective wind length, larger waves are to be expected, which you have to know how to deal with. At the same time, you can find areas near the coast of every island where the wave height is very moderate. Similar to the wind, you can consciously select areas here.
Clemens (founder of MCO Sailing / RYA instructor) says enthusiastically: "The conditions on the Canary Islands are both an opportunity and a challenge, sailing on the Canary Islands is particularly ideal for Atlantic training!"
Atlantic training in the Canary Islands
Varied and diverse conditions are ideal for completing comprehensive Atlantic training. Strong wind sailing in a mild climate and with few rainy days is hardly anywhere else as easy as on the Canary Islands. The infrastructure, ports and coastline have great variability, which means there is a lot to train on. However, the climate and geographical conditions are such that the sailing area does not overwhelm you, it offers the challenges that you have to complete in your training course and is also clear and pleasant.
In addition, there is a great network of professional sailors and well-stocked sailing shops through the ARC and various other rallies. The fact that Canary Islands is a year-round sailing area is another bonus that speeds up the learning process without interruptions. Lava Charter and MCO Sailing have opened an RYA training center in Lanzarote in Marina Arrecife in cooperation. Here you can train from beginner to professional level and complete professional sailing courses..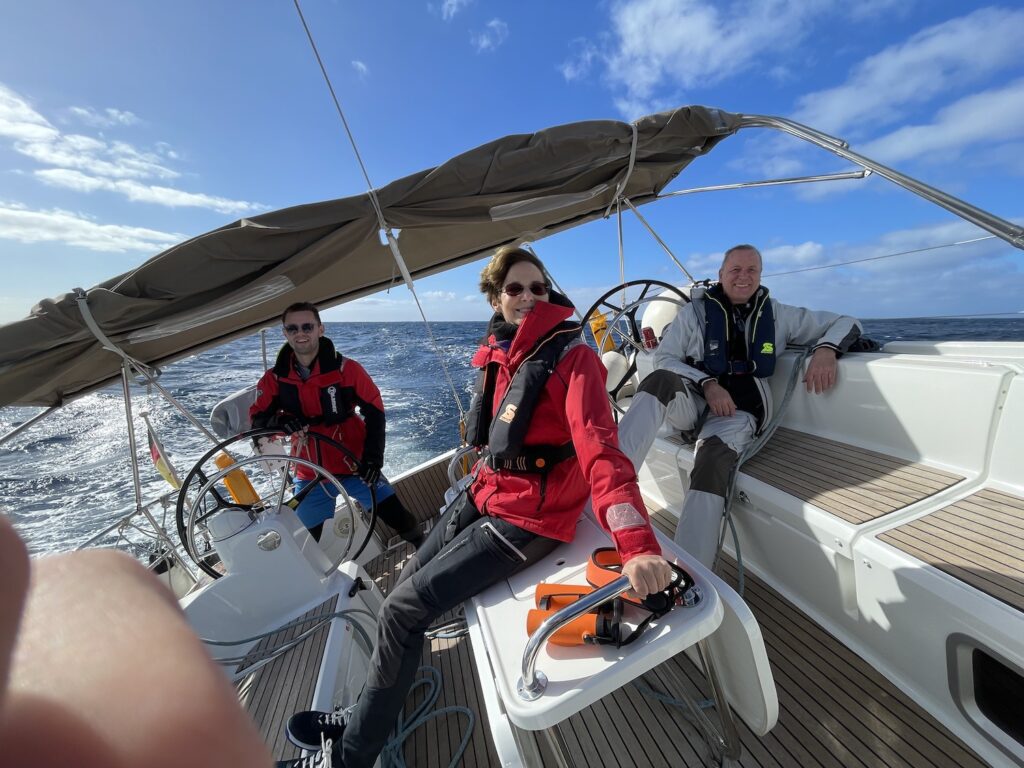 "Sailing in the Canary Islands is a dream!"
Why RYA sailing licenses?
The RYA (Royal Yachting Association) has an excellent international reputation. The RYA sailing licenses are recognized worldwide and stand for quality, professionalism and intensive practical orientation. Sailing course consist of theory part and practical one that is where essential topics that you will really need as a skipper and professional sailor are presented. Another plus is that English is an universal sailing language. So everything you learn during your sailing training will be internationally useful and understandable.
Which licenses can be obtained in Lanzarote?
In our base you can complete all levels from the base to the Yachtmaster Offshore.
Competent crew (basic training basic knowledge)
Dayskipper (rent a sailing yacht during the day and in known waters)
Coastal Skipper (course and exam for sound sailing in coastal waters)
Yachtmaster Coastal (Safely steer a yacht up to 24 meters in all conditions, day and night)
Yachtmaster Offshore (Less tolerance for mistakes and professional license for international sailing industry)
Yachtmaster Ocean (demonstration of astronavigation skills, worldwide sailing)
You can find out more about RYA sailing licenses at MCO Sailing. When sailing the Canary Islands, you are guaranteed to become a professional sailor!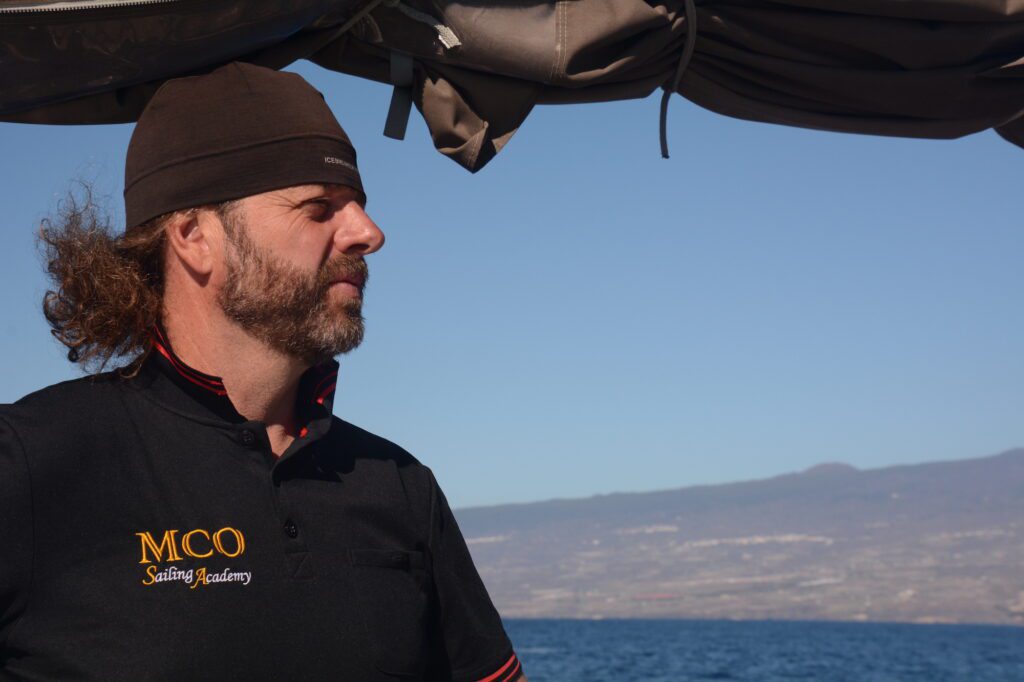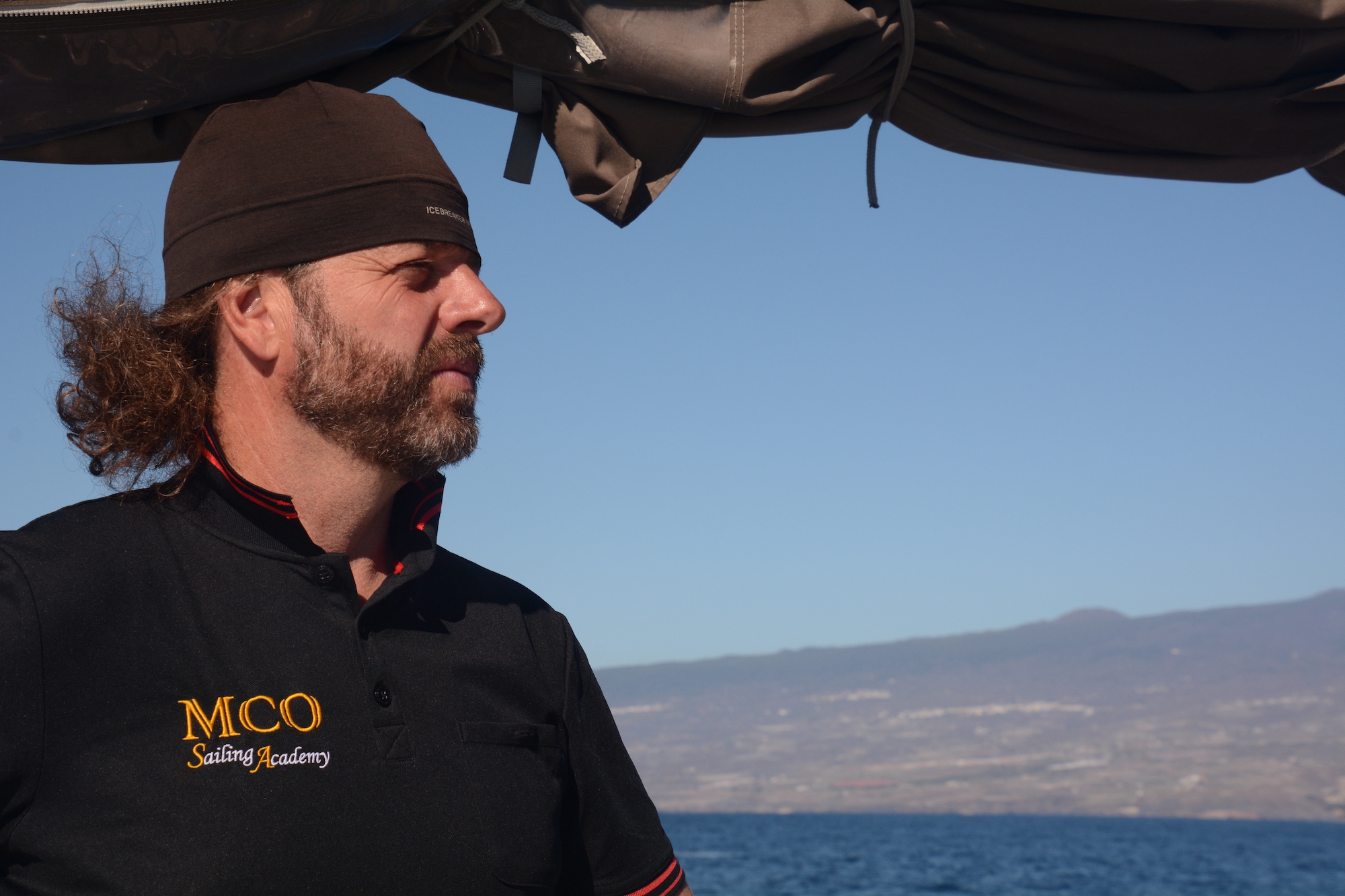 Why monohull instead of catamaran?
Basically, there are many arguments for and against. However, it must be said that on the Canaries upwind sailing is the order of the day and this is much more difficult with catamaran than with monohull. Marinas are also more adapted for monohulls. Because of the flexibility of monohulls, we recommend chartering such a yacht on the Canary Islands.
8 islands at a glance
We would like to bring you closer to the diversity of the islands and give you important tips on the topics of ports, anchorages and day trips for your sailing experience. We introduce you to the islands from north-east to south-west.
La Graciosa
La Graciosa is a small island to the north of Lanzarote and is also the most northern one. This unique nature reserve offers a wonderful bay called "Playa Francesa". Here you can anchor well protected on a sandy bottom. Starry nights far away from light pollution await you in this magical and remote place. The underwater world also has a lot to offer here and a snorkel or dive is always worthwhile. To anchor at Playa Francesa, you need a permission, please register in time. There is a small port called "Caleta del Sebo" can accommodate yachts up to 12 meters long. The pilones of the marina where renewed and the new pantoon has about 20 meters length.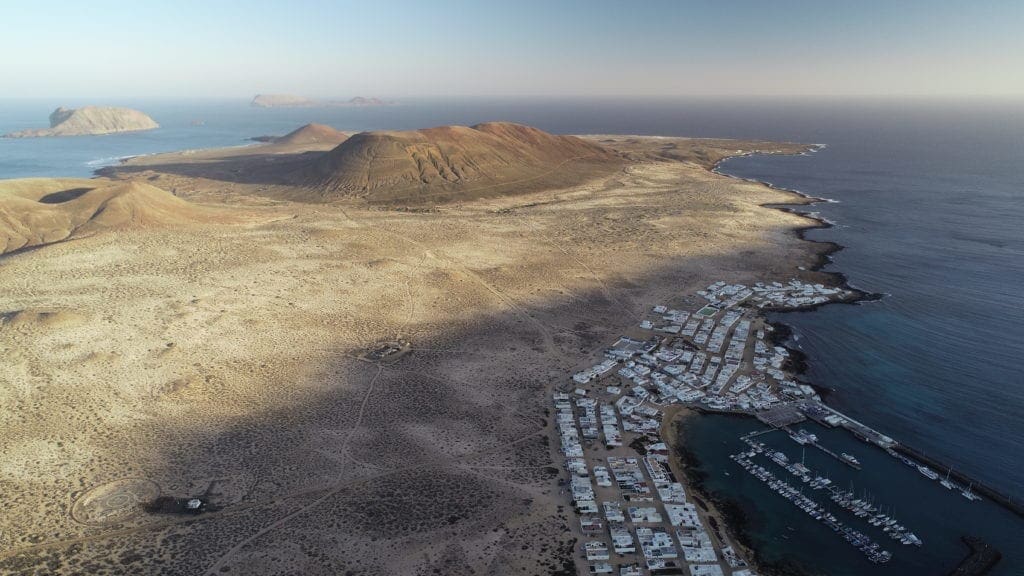 Ports:
Caleta del Sebo: Geographical location: South, Coordinates: 29° 14′ N, 13° 30′ W, Telephone: +34 828 181 145
Anchorages:
Playa Francesa: A wonderful anchorage with a sandy bottom. An anchor permit is required.
Special places: Playa de las Conchas
Lanzarote
Lanzarote is probably the island with the best sailing conditions due to various factors: low acceleration zones, safe anchorages with a sandy bottom, little shipping traffic and excellent marinas with great service and good infrastructure. When it comes to sailing in the Canary Islands, a lot of people think of high waves and strong gusts, but winter on Lanzarote looks very different. Winds decrease and especially in the south of the island there is often a Mediterranean feeling. One of the most popular anchorages is Playa Papagayo, where you are well protected by wonderful turquoise blue bathing bays. Snorkeling and swimming fun are the order of the day here. If you want to take a shore excursion, we recommend a visit in Timanfaya Volcanic Park. In this nature reserve you can see evolution up close: gigantic rock and lava formations in a unique volcanic scenery that gives you the feeling of being on another planet.
Overall, there is hardly any mass tourism in Lanzarote and the government attaches great importance to preserving the original culture and architecture. The result is quiet original tourism. A big advantage of Lanzarote is that the island can be sailed around in a relaxed manner in one week and you can even visit the adjacent islands of La Graciosa and Los Lobos. You can find more about the island of Lanzarote in our large Lanzarote blog.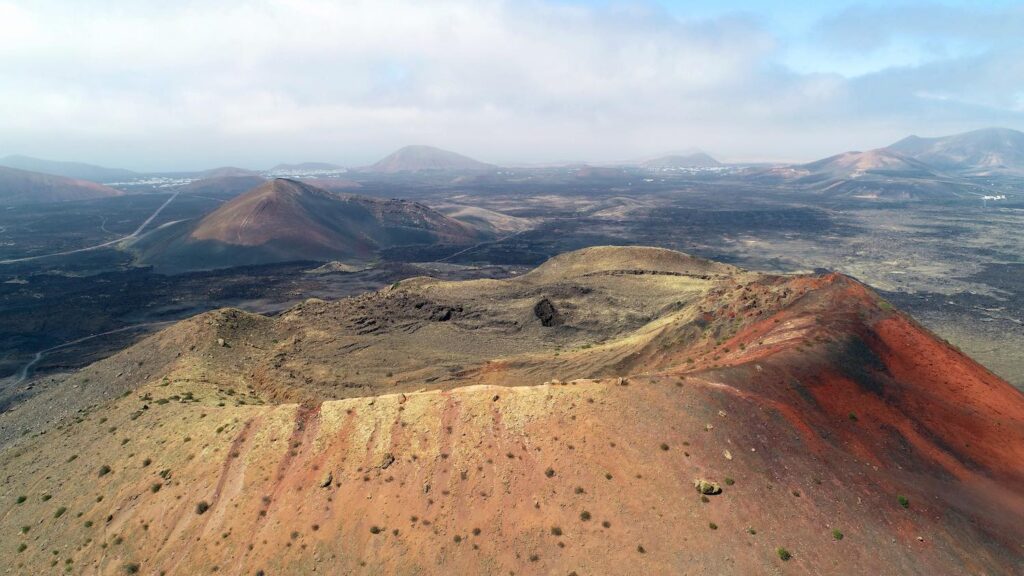 Ports:
Marina Arrecife Lanzarote: coordinates: 28°57'N/13°29'W, telephone number: 0034 648 524 649
Marina Rubicón: coordinates: 28°51'N / 13°49'W, telephone number: 0034 928 519 012
Puerto Calero: Coordinates: 28°54'N/13°42'W Telephone number: 0034 928 510 850
(marinas will be linked)
Anchorages:
Playa Francesa: A wonderful anchorage with a sandy bottom. An anchor permit is required.
Playa Papagayo: In the south of Lanzarote with a number of bathing bays and lots of tourism. Predominantly sandy subsoil with isolated rocks. We recommend checking the anchor with snorkel gear.
Los Lobos: anchorage in front of the small nature reserve Los Lobos. Mostly sandy subsoil, isolated rocks. An anchor permit is not required, but if you want to visit the island, you have to arrange the permission.
Playa Blanca: buoy field in front of Marina Rubicón.
Special locations:
Timanfaya Park
Playa Famara
Jameos del Agua
Fuerteventura
Only 9 nautical miles from Lanzarote there is a possibility to moor in the port of Corralejo on Fuerteventura. Here you will find many leisure opportunities, but it has to be said that it is very touristic here and the service in the marina is rather poor. Only a few kilometers from Corralejo you will find the large shifting dune, which is a real highlight for surfers and kiters. Fuerteventura shines with numerous beautiful beaches. There is only one anchorage east of Gran Tarajal and the ports are more suitable for stopovers than for staying longer. This is due to rather poor infrastructure and the poor service in the marinas. But if you are passing through, you will find a mediocre berth in Corralejo or Gran Tarajal and great shore excursions, especially for beach lovers. There are currently expansion plans for the ports of Corralejo and Puerto del Rosario, which should make the ports more attractive. We are excited!
Ports:
Corralejo: coordinates: 28°44'N/13°52'W
Telephone number: 0034 928 866 524
Puerto del Rosario: Coordinates: 28°29'N/13°51'W
Telephone number: 0034 928 850 199
Puerto del Castillo (Caleta de Fuste) : Coordinates: 28°29'N/13°51'W
Telephone number: 0034 928 547 518
Morro Jable: Coordinates: 28°03'N/14°21'W
Telephone number: 0034 928 540 374
Gran Tarajal: Coordinates: 28°12'N/14°1'W
Port phone number: 0034 928 162 151
Anchorages:
East of the Marina Morro Jable there is a wonderful sandy beach with buoys and the possibility to anchor. This anchorage is relatively well protected and with the dinghy you can quickly reach the coast and visit restaurants and do some shopping.
Special locations:
Corralejo National Park
Playa de Cofete
Playa de Sotavento de Jandía
Gran Canaria
Gran Canaria is an island with two faces: the cool and humid north with lush vegetation and the warm, dry south with rock formations. Here the prevailing microclimate zones on the Canary Islands are particularly visible. A really great highlight and the dream for almost every sailor is the annual Atlantic Regatta (ARC – Atlantic Rally for Cruisers), which always starts in November from Las Palmas. Experienced and ambitious sailors travel from all over the world to cross the Atlantic. Here you can expand your sailing network very well and have great conversations.
Ports:
Muelle Deportivo de Las Palmas de Gran Canaria: Coordinates: 28° 08'N, 15° 25′ W Piers: 1.134 Telephone: 0034 928 244 101
Puerto de Las Nieves: Geographical location: North Coordinates: 28° 6′ 9″ N, 15° 42′ 36″ W Telephone: 928 554 227
Muelle de Taliarte (Arinaga): Geographical location: East Coordinates: 27° 53? 00? N, 15° 26′ 00″ W Telephone: 0034928 219 300
Club de Yates Pasito Blanco: Geographical location: South Coordinates: 27° 45'N, 15° 37'W Moorings: 387 Telephone: 0034 928 142 194
Marina Anfi del Mar: Geographical Location: South Moorings: 72 Telephone: 0034 928 150 798
Anchorages:
Anchorage in front of Marina Anfi del Mar
Special locations:
Maspalomas Dunes Nature Reserve
Roque Nublo
Santa Ana
Tenerife
On this island you will find the largest volcano in the Canary Islands, the Teide. At 3,715 meters, it is not only the highest mountain in Spain, but also the third largest volcano in the world. A day trip is definitely worthwhile to explore this gigantic formation. Unlike the other islands, the north is described as "calm, calculable waters" and is very suitable for cruising. In the south there is a comparatively rough sea and especially the acceleration zone in the south-eastern part between Tenerife and Gran Canaria should be chosen by experienced sailors. The Marina San Miguel in the north of the island offers a well-protected berth and an extensive infrastructure with leisure facilities, restaurants and good sanitary facilities.
Ports:
Puerto de Garachico: telephone number: 0034 922 830 791,
Geographic coordinates: 28°22'N/16°45'W
Marina Santa Cruz de Tenerife: Telephone number: 0034 922 591 247, Geographic coordinates: 28°29'N/16°12'W
Puerto Deportivo Radazul: telephone number: 0034 922 680 933,
Geographic coordinates: 28°24'N/16°19'W
Puerto Deportivo La Galera – Candelaria: telephone number: 0034 922 500 915
Club Nautico Puertito de Guimar: telephone number: 0034 922 528 900,
Coordinates: 28°17'N/16°22'W
Marina San Miguel: Telephone number: 0034 610 777 280, Geographic coordinates: 28°1'N/16°36'W
Marina del Sur – Las Galletas: Telephone number: 0034 922 783 620, Geographic coordinates: 28°00'N/16°39'W
Puerto de los Cristianos: telephone number: 0034 922 790 827,
Puerto Deportivo Colon – Adeje: telephone number: 0034 922 714 211, coordinates: 28°04'N/16°44'W
Los Gigantes Marina – Santiago del Teide: Telephone number: 0034 922 868 002
Anchorages:
Los Cristianos
Special locations:
Teide National Park
Playa de las Teresitas
Siam Park
La Gomera
Sailors love the small island of La Gomera. Water is crystal clear and there are countless small unvisited bays that invite you to linger. In the tourist towns of Valle Gran Rey, Playa Santiago and in the capital San Sebastian there are somewhat larger and relatively well-developed harbor facilities where you can drop anchor. In the east of the island is the port of San Sebastian with over 335 berths. There is a relatively good infrastructure with sanitary facilities. Just outside the port facilities there is a possibility to anchor undisturbed and away from tourism. However, you have to keep a close eye on the wind conditions here, as it can get very restless. In the strait between Tenerife and la Gomera, cape and jet effects also occur and wind acceleration is often underestimated. It is always important to be well prepared so that you do not get any negative surprises.
Ports:
Marina La Gomera – San Sebastian: phone number: 0034 922 141 769, coordinates: 28°05'N/17°06'W
Puerto de Playa Santiago: telephone number: 0034 922 895 275, coordinates: 28°01'N/17°21'W
Valle Gran Rey: coordinates: 28°5'N/17°21'W, telephone number: 0034 922 805 476
Anchorages:
Argaga
La Cantera
La Rajita
Special locations:
Garajonay National Park
Valle Gran Rey
Bosque del Cedro
La Palma
The "Isla Bonita" offers wonderful vegetation and breathtaking volcanic landscapes. A hike through the Caldera de Taburiente should not be missed. There are countless trails and a hike through the lush Canarian pine forest stimulates all the senses: the trees exhale their essential oils, birds chirp and sing, insects buzz around, a dream! Moorings are available in the Santa Cruz Marina and in the port of Puerto Tazacorte on La Palma. In Puerto de Tazacorte, the construction work has now been stopped to the extent that an edifying lying is possible. The sports boat harbor offers everything a sailor's heart desires, including an adequate shipyard. In the capital's marina, the swell can sometimes be very strong, and there is traffic – sometimes at night – of ferries and large cargo ships.
Ports:
Marina La Palma: coordinates: 28°40'N/17°46'W, telephone number: 0034 922 410 289,
Puerto de Tazakorte: telephone number: 0034 922 480 386, coordinates: 28°40'N/17°57'W
Anchorages:
Field of buoys in front of the port of Puerto Tazakorte
Special locations:
Santa Cruz de La Palma
The last dragon trees in the Canary Islands near Las Tricias
Caldera de Taburiente
El Hierro
El Hierro is the westernmost Canary Island. It has a very green vegetation, especially in the north. The so-called north-lying cloud forest ensures that the water from the northeast trade wind clouds condenses and drips onto the earth. As a result, there are numerous ground plants, ferns and ivy. The fairytale backdrop is reminiscent of fairy forests and has a particularly magical aura. The coasts are mostly steep and inaccessible. Malpaso is the highest mountain on the island at 1501m. A rental car is recommended to explore El Hierro as public transport is unreliable. Rental cars can be hired cheaply at the airport in the north. Anchoring is not possible around El Hierro. There are two ports on the island: the ferry and yacht port of Puerto de La Estaca in the northeast and a fishing port in La Restinga on the southernmost point of the island.
Ports:
Puerto de la Estaca: Telephone number: 0034 922 550 903 Coordinates: 27°47'N/17°54'W
La Restinga: phone number: 0034 922 557 081, coordinates: 27°37'N/17°59'W
Anchorage: Anchoring not possible
Special locations:
cloud forest
We hope we were able to give you a good overview of the Canary Islands and sailing conditions and tips of the region. If you have any questions or suggestions for improvement, we look forward to receiving an email to booking@lavacharter.com. Thanks for reading and fair winds!