The Canary Islands are a paradise for sailors and yacht lovers. Not only the mild climate, but also the picturesque landscapes make the region one of the best places for Atlantic sailing. The Canary Islands offer numerous marinas to moor in for overseas sailors and charter guests. That's why we've put together our five favourite marinas in the Canaries – each with its own charm and unique offerings. Whether you're looking for a quiet retreat or seeking adventure, these marinas offer everything your heart desires!
Puerto Calero
Puerto Calero is one of the most popular marinas in the Canary Islands and offers everything a sailor could wish for. The marina is situated on a picturesque harbour with views of the sea and the surrounding mountains. With over 400 berths for boats up to 60 metres in size, there are plenty of options for owners of yachts and sailboats.
For those looking for entertainment, Puerto Calero has numerous restaurants, bars and shops along the harbour. There is also a weekly market every Tuesday morning selling local produce.
The marina also offers various water sports activities such as kayaking, diving or jet skiing, as well as submarine excursions. There are also hiking trails in the mountains behind the marina, as well as bicycle rental stations nearby.
Puerto Calero also has a number of annual events such as the RC44 Cup international regatta event in November and the Jazz & Food Festival in July – perfect for visitors looking for something different to do during their stay.
Overall, Puerto Calero is a great place to relax and explore with plenty of activities both on and off the water!
Marina Rubicon
Marina Rubicon is one of the most famous and beautiful marinas in the Canary Islands. This marina is located in Playa Blanca, a town in the south of Lanzarote. The location at the foot of the impressive volcanic landscape gives this marina a breathtaking ambience.
Marina Rubicon offers many facilities for boat owners and visitors, including restaurants, bars, shops and boutiques. There is also a weekly market which takes place every Wednesday and Saturday morning and has become a popular meeting place for locals and tourists alike.
The facilities are first class: There are showers with hot water around the clock as well as washing machines in every sanitary station. In addition, the area is continuously monitored – so highly recommended from a safety point of view!
During your stay, you can take part in various activities, and there is also plenty to do at night; the numerous bars ensure a lively atmosphere.
Marina Lanzarote
Marina Lanzarote is another jewel of the Canary Islands. This modern, high-quality complex is located in Arrecife, the capital of Lanzarote. Its seafront location and proximity to the airport make it an ideal destination for yachtsmen.
The marina offers 328 berths for boats up to 60 metres in length, as well as a wide range of services such as electricity, water and fuel supply and Wi-Fi connection. There are also special offers for long-term stays.
In addition to the excellent technical facilities, the marina also offers leisure facilities such as restaurants, bars, shops and a yacht club. Visitors can have their boats repaired or maintained here.
The surroundings around the marina are also very beautiful to look at: The old town of Arrecife with the Charco de San Gines has many sights to offer, including historic buildings and museums. There are also beaches nearby such as Playa del Reducto or Playa del Cable – perfect for relaxing after a long day at sea.
Overall, Marina Lanzarote is a must for any sailor planning a stop in the Canary Islands
Caleta del Sebo
The Marina Caleta del Sebo La Graciosa is a truly breathtaking place! With its crystal clear waters and the picturesque Risco rising on the other side of the "Rio", it feels like paradise.
The environment here is so peaceful and tranquil that it almost seems surreal. There are numerous activities – from water sports to bike rides to leisurely walks on the beach.
The best thing about this place, however, is the sense of freedom and adventure that takes you here, so if you fancy an unforgettable experience in a gorgeous setting, then you should definitely visit Caleta del Sebo La Graciosa Marina!

Tip: Caleta del Sebo Marina is small and often fully booked. Please reserve a berth as soon as possible.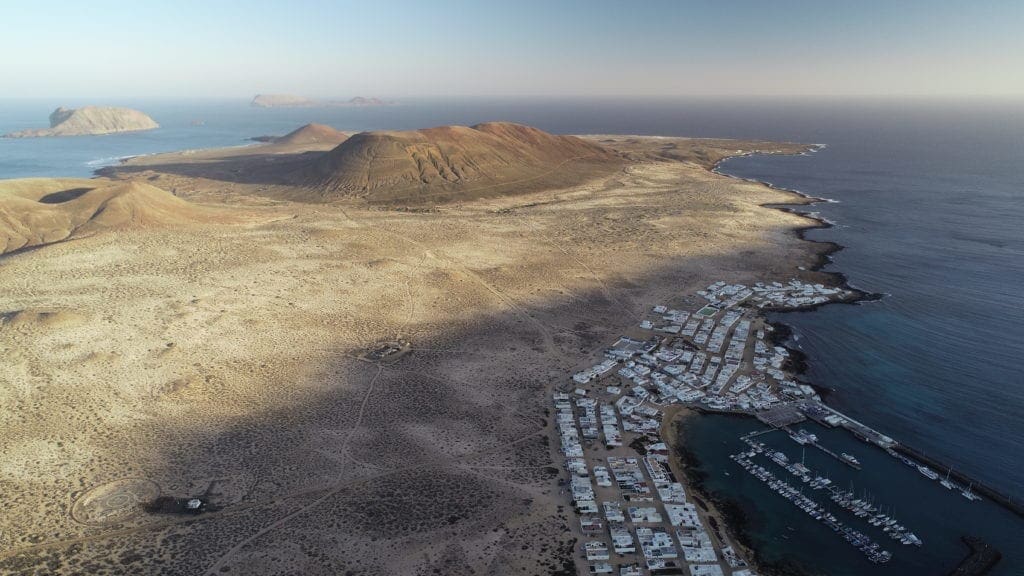 Puerto Rosario
The port of Puerto Rosario Fuerteventura is a truly colourful and varied place. From restaurants with very good food to small boutiques with handmade souvenirs, there is nothing here that you can't find.
Especially the many leisure activities invite you to stay longer. The harbour has 60 berths, toilets and showers, as well as a petrol station, sewage disposal and many other services.

Puerto del Rosario is the starting point for many activities such as windsurfing, surfing, boat trips and diving. If you want to experience something in the evening, you only have to stroll through the streets; live music plays in the bars. Two of the most popular nightclubs / lounges are Mama Rumba and the Magma Disco Lounge.